SousVide Supreme Chef Professional Grade
Description:
The SousVide Supreme Chef® is the world's first UL commercial and NSF approved sous vide appliance, designed to meet the rigorous demands of the commercial kitchen. The Chef offers silent, steam-free operation and easy portability for catering off-site. 
SousVide Supreme Chef 11-liter water oven includes:
Stainless steel universal pouch rack for easy positioning of pouches
Stainless steel lid, which doubles as drip tray for pouch transport
Detachable power cord
Perforated bottom grill designed to generate thermal turbulence
User Manual

FEATURES
QUIET OPERATION
The unique patented design maintains precisely-controlled water temperature without the need for a motor, allowing it to be completely silent when in use.
self-contained design
The stainless steel lid contains steam and maximizes energy-efficiency. The lid also doubles as a tray for transporting pouches.
Specifications
Model SVS10CNEU
Water bath – single
Total Volume 11.2 liters (2.96 gallons)
Max Cooking Capacity 10 liters (2.6 gallons)
Power: 220-240V
Temperature
Display Digital LED
Adjustable in increments of 1ºF (0.5ºC)
Range 86ºF to 210ºF (30º to 99ºC)
Precision 1ºF (0.5ºC)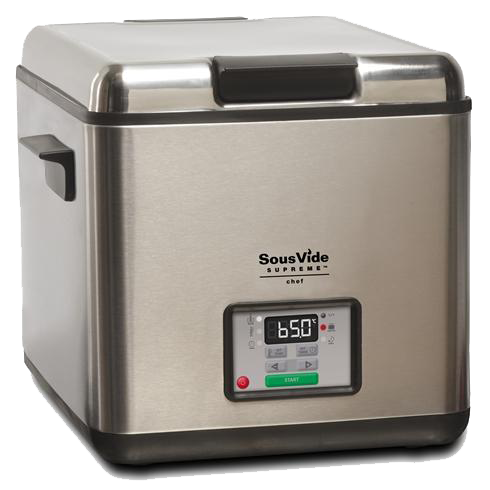 Commercial Grade
The compact counter top design includes durable plastics and wiring, heat-resistant handles for easy lifting, a lid to contain steam, and is rated for 30,000 usage cycles.
Precise
PID controller ensures temperatures are maintained within 1 degree Fahrenheit (0.5 degrees Celsius) for the entire cooking duration, even if it's days at a time.
Dimensions
Overall 30cm / 34cm / 30cm
Weight 6.3 kg
Timer
Displays to 1 minute resolution
Settings variable 0 min to 99 hr
Cycle and audible repeating beep
Timer does not turn off machine